Corrosion and the damage it can cause contributes to #12.5 billion annually in lost opportunity, replacement of goods, labor, and frustration. Do you have a challenge with corrosion in your business?
Endurobond can help.
EnduroBond is a fusion-bonded polymer coating that is a one-part, heat-curable, thermosetting coating designed for metal corrosion protection. Applied to the ambient metal as a dry powder, Endurobond reacts to form a uniform, smooth and flexible layer with a minimum thickness of 1-2 mils.
That means Endurobond can be applied to threads without impacting mechanical tolerances while still protecting. With a temperature rating above 500 degrees Fahrenheit, Endurobond can protect in the harshest of environments.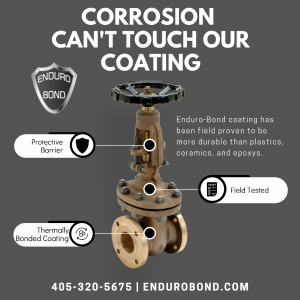 Our customers enjoy tremendous cost savings without impacting performance by coating ductile iron or carbon steel with Endurobond versus using stainless steel, bronze, and aluminum bronze.
Enduro-Bond coating provides a protective coating on Ductile Iron or Carbon Steel that holds up longer than Stainless Steel, and tests prove it. Enduro-Bond will extend the service life of your valves and increase your bottom line.
Can we help your business fight the effects of corrosion? Call us at 405-320-5675 or email us at info@endurobond.com to learn more.